Goddard's Pies – The way pies should be made
Goddard's Pies is a family business that has been making fantastic, handmade pies since 1890. We use quality ingredients alongside traditional recipes and techniques to produce some of the best pies around. If you want a great pie experience, you're in the right place! Welcome to the home of traditionally made pies..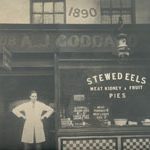 In 1890, Alfred Goddard opened our first pie and mash shop in Deptford, London and in 1952 another shop opened in Greenwich, London. Over 120 years later, we remain a family run business that specialises in traditional pie and mash. The pies that we make today are still hand made using traditional recipes and techniques. Our 'pie and mash' pie contains only 100% British beef and is made … Read more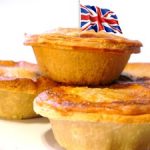 Good quality pies are the ultimate in comfort food and that's just one of the many reasons we Brits love them so much. There is something to be said for the delicious contrast between crisp, golden pastry and the succulent, savoury filling that is wholesome, comforting and very nutritious at the same time. Our inclement [...]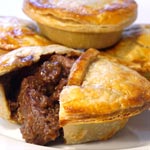 Handmade pies are something which should be celebrated and revered. When made properly, there is little than can better them in terms of taste and appearance. These days we spend so much time rushing around, that we have so little time to cook and eat properly. That means when we do, sitting down to eat [...]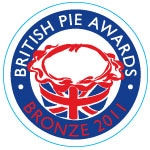 We are extremely pleased to announce that we have won a Bronze Award for our Traditional Mince Beef Pie (pie & mash pie) at the annual British Pie Awards which took place in Melton Mowbray on 8th June 2011. The British Pie Awards is an annual competition, organised and hosted by the Melton Mowbray Pork [...]
Only hand made is good enough
Our pies aren't processed, they're hand crafted. All of our pies are handmade from scratch by pie makers who follow the Goddard's traditional methods.
For us, nothing else is good enough.
Traditionally modern
Our pies are made using the Goddard's family traditional techniques and recipes within a modern and hygienic food-safe environment.
Insist on Goddard's pies.