PIES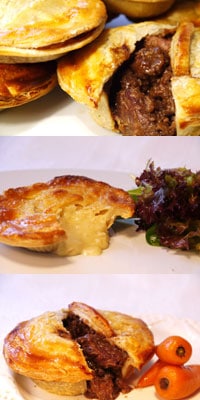 We are pleased to deal with trade customers and wholesalers alike and we can supply any size of orders for our range of individual pies. Our handmade pies are supplied frozen unbaked so they can be freshly baked on site.
We currently offer:
100% minced beef pie
Steak and kidney pie
Steak and ale pie
Chicken and mushroom pie
Chicken and ham pie
Chilli minced beef pie
Cheese and onion pie
Soya pie (Vegan friendly)
For further details please call us on 01732 25 25 25 or email info@pieshop.co.uk
PIE AND MASH TO THE TRADE
If you have an existing food premises that would suit pie and mash or have an idea about selling pie and mash we would like to know!
Goddard's have been making traditional pie and mash since 1890 so we  know a thing or two about it. Our restaurant in Greenwich traded successfully for over 50 years so we have enormous experience in stocking and running a busy cafe. With a much larger commercial kitchen we can now supply pie mash and liquor to the trade. Our bulk wholesale service is perfect for:
Cafes
Pubs
Fish and chip shops
Canteens
Caterers
Restaurants
Mobile food units
Bakers
Wholesalers & Food Service
Hotels
Pie shops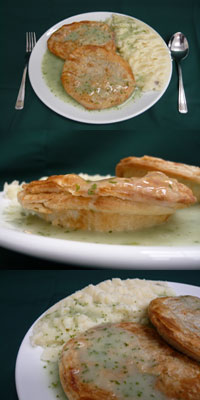 In fact anywhere that has the potential to sell food!
Pie and mash can be added to your main menu or you could offer a regular 'pie and mash' evening. If you would like to offer pie mash and liquor to your customers please get in touch today. We can supply a range of hand made pies, mash & liquor along with chilli vinegar and fruit pies. Perfect food for a pie and mash shop or outlet.
Pie and mash is still as popular as ever but pie and mash fans can't always find a supplier. As well as offering pie and mash on your normal menu you can also gain additional business from pie and mash parties and cockney evenings.
We're not just here to sell our great pies though. We will help get your business off to a flying start by suggesting the best ways to prepare and serve our pie and mash. We can also help promote your business on the web and provide other marketing support such as flyers and posters.
We are more than happy to talk to existing businesses or to discuss a new idea that you may have. If it includes pie and mash we want to talk to you!
Interested?  Please call us on 01732 25 25 25 for an initial chat or email info@pieshop.co.uk