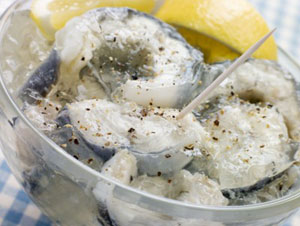 For traditionalists, no pie and mash meal is complete without jellied eels or stewed eels. Jellied eels were favoured as a delicacy throughout London, particularly the East End, with stewed eels not quite as popular.
Goddard's are able to supply either jellied eels or stewed eels. These make the perfect addition to a pie and mash meal, ideal for making that wedding or party extra special.
Our eels are sourced from Lough Neagh which is situated in the centre of Northern Ireland and is the largest commercial wild eel fishery in Europe. We never buy frozen eels which are often imported from the Far East.
The eels that now accompany traditional pie and mash should really be recognised as the original fillings for eel pies sold throughout London from  the "Eel Pie and Mash Houses". Once meat became more affordable, then eel pies were replaced by the pies we know and love today. Eels were often served with some brown bread or mashed potato. A 'liquor' sauce was made from the water used to boil stewed eels and poured over the meal for extra flavour. The liquor was seasoned with parsley and salt and pepper and is served in all good pie and mash shops. It would be traditional to put a good amount of pepper and vinegar over the eels with chilli vinegar now being the popular choice.
Our Grandfather, Bob, would have live eels delivered from Billingsgate to the shop. These were kept alive in the shop until it was time to prepare and cook them.
Making jellied eels is surprisingly easy. The eels need to be gutted, skinned and chopped up and then boiled in water which would be seasoned with salt, peppercorns and maybe vinegar. Once cooked, the eels would be left to cool down with the liquid setting and turning to jelly, hence the name jellied eels.