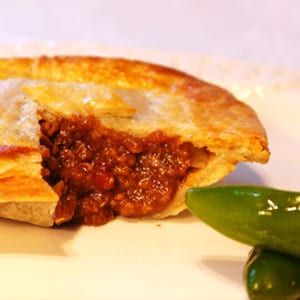 Although we've been making this pie for a short while now it has not yet been formally announced. So, please welcome the NEW Chilli Minced Beef Pie.
This new pie is perfect for the UK's growing preference for all things spicy and hot. We've taken our award winning minced beef pie and added some freshly chopped chillies and other carefully blended spices to make this new exciting pie. It has a quality meat filling with just the right amount of spice and heat from the extra ingredients.
It's not a curry or balti pie but does have a wonderful depth of flavour and warmth.
This is proving to be one of our more popular new pie creations during our tasting and promotional sessions. As with all of our pies the new chilli minced beef filling is encased in the famous Goddard's pastry which is like no other pastry.
It's available now for all trade and wholesale customers.