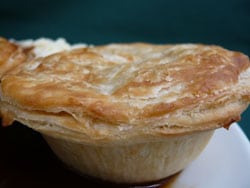 For some time now we have been selling our traditional minced beef pies online for home delivery. These are cooked and then chilled so are perfect for heating in the oven or popping into the freezer for another day.
We have now added some of the other pies we make to the online shop.
Here's what's available:
Traditional minced beef pies

The 'pie and mash' pie. Fantastic pastry with our quality minced beef and gravy filling

Chilli minced beef pies

Made with real chillies and a blend of spices, hot and tasty!

The Steak Box

4 Steak and kidney pies plus 4 steak and ale pies. Slow cooked for taste and tenderness

Minced beef with cheese pies

An Aussie classic – Our minced beef filling topped with cheddar cheese
These pies are available to buy right now from our online shop. These pies are pre-cooked sent using a overnight delivery service and all have the Goddard's trademark pastry.
All pies are hand made by ourselves at the Goddard's Pies factory in Kent.