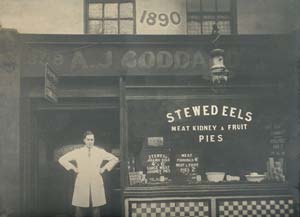 Our business started way back in 1890 with a single pie and mash shop in Deptford, London. Now we are the leading supplier of traditional pie, mash and liquor to the trade. No other company offers such a wide range of products together with our level of service and commitment.
Brothers, Jeff & Kane Goddard, both work hands on in the business and they continue to assist in the making of our pies and supporting our customers with help and advice. The food that bears their family name has to be made in the traditional way to their exacting standards.
We completed a large expansion plan during 2010 and now supply many more trade customers and pie shops with our famous pies and liquor. We are now looking to move forwards again during early 2011 and are actively seeking new customers for our wholesale pie mash and liquor. If you have a business idea that involves pie and mash then please get in touch, we are seeking business in Essex, Kent and South London.
QUALITY PIE AND MASH
The history of pie and mash shows that the pies were mostly made from scraps of meat. How times have changed. We source high quality meat from a local butcher who delivers to us several times every week, no cheap cuts here and definitely no gristle!  Our pies are recognised as some of the best in the business and generous in size.

THE PIE AND MASH EXPERTS
Our proposition offers so much more than just delivering pie and mash to you. We recognise that someone who wants to sell pie and mash needs some help and guidance to get their business off to a good start. We can provide as much or as little help as you feel you need. In the past we have gone as far as designing kitchens and providing specifications for equipment to some customers. We can provide guidance on:
Shop design
Kitchen design
Equipment spec
Menu choices
Pricing
Marketing
Storage
Cooking
All of this is free and part of our service. It is our intention to work with you so that your business runs smoothly and profitably. We are not a large company so you will quickly become familiar to us and recognise who here is best to answer your questions!
So, if you want to set up a pie and mash business and work with us please get in touch, we love to hear pie and mash ideas!